Surfing was the theme that inspired yet another Sketch Tour Portugal trip along the coast, taking advantage of the Rip Curl Pro event, one of the most important events in the international surfing calendar. 
Many beaches, different waves, and fishing towns and villages were a great inspiration for Portuguese sketcher João Catarino and American Suhita Shirodkar.
Their first stop was Carcavelos, one of the most iconic places in the history of surfing in Portugal and where João currently lives.
They then travelled to Ericeira, Peniche, where the championship took place, and to Nazaré, north of Lisbon.
Their trip took them along the Alentejo coast, after which they returned to Lisbon, where there was still time to get to know the city.
João Catarino lives in Carcavelos, very close to the sea and the beach where surfing became more and more popular among the Portuguese.
With illustration as one of his main activities, as well as his profession, surfing and drawing turned out to be an inevitable combination.
He was quite glad to be the host and guide of Californian Suhita Shirodkar during the Sketch Tour Portugal surfing stage.
The desire to show the best waves of the Portuguese coast was an enriching experience and an opportunity to revisit places from a new perspective, getting caught up in the fascination and the close and always interested attention of Suhita.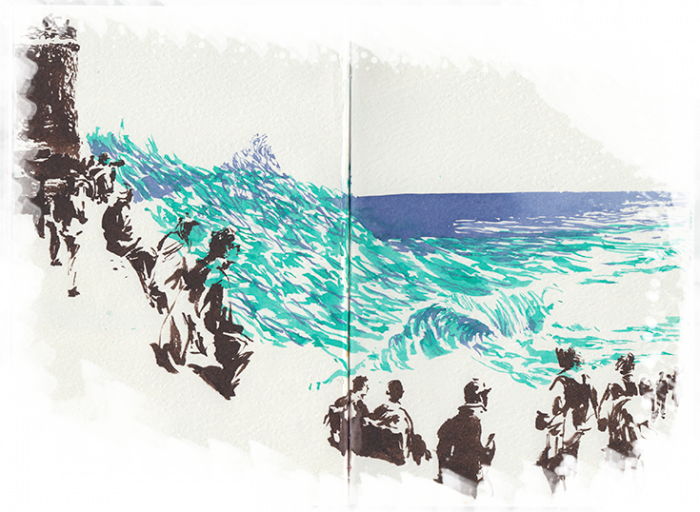 João Catarino is a Portuguese professor of illustration and communication design. He's a charismatic storyteller and works mainly in illustration.