The sketchers who covered the Alentejo region were struck by the harmonious contrasts between architecture and nature, by how the villages, small clusters of white houses, are strewn across the landscape, peeping out between the small golden hills, under the blue sky.
For João Moreno, the Alentejo reminds him of childhood holidays between Borba and Vila Viçosa.
The smell of oranges in the street early in the morning, the fresh feeling of marble walls when the heat takes hold, the shadows beneath the lemon tree in his grandmother's house: all these memories come back to him whenever he visits this land.
Being Marion's host enabled him to see things with the eyes of someone who is visiting this region for the first time, and thus to discover a new Alentejo, looking for what best represents it.
It could be the light, the contrast between the saturation of colours and the white-washed walls, the cork oaks in the countryside, the lemon trees in the villages and the extraordinary skyline, which so visibly embodies the melancholy spirit of its people.
Picture-perfect Alentejo made an exceptional appearance.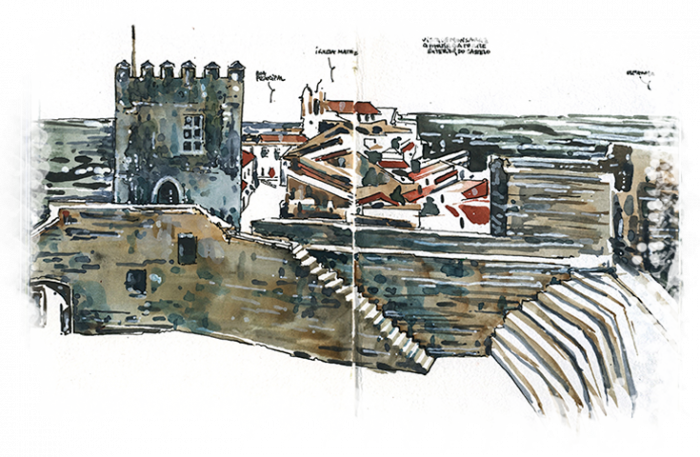 João Moreno lives in Lisbon, where he draws and teaches Art History. His sketching style goes from book and music illustration to reality and dream representation. He uses watercolours and a black pen most of the time and paints with a surrealist touch.