Lis Watkins had never been to Lisbon before. She accepted the invitation with a lot of enthusiasm – she enjoyed seeing pictures of the streets, colourful houses and tiles, brought by friends who had been to Portugal.
Croydon, in the south of London where she lives, also has trams, just like Lisbon, so this gave her a reason to think she would feel at home.
Her original technique of using watercolour and A3 paper attracted a number of interested onlookers while she was sketching. When she was preparing for the journey, she made a point of packing lots of light yellow and strong blue watercolours, so as to capture Lisbon's unique light and atmosphere.
She was surprised at the variety of landscapes so close to Lisbon.
However, if she had to choose the highlight of the visit it would be Sintra, a place she had never heard of, with a very special atmosphere and an incredible landscape.
"At each of the places where we stopped to sketch, I could have stayed there all day making drawings! The hardest thing to do was just decide which direction to draw in, as the views were all so picturesque. The light was so different to the light here in London and, just looking out from the van window, I saw countless places where I would love to have stopped and drawn, if only there had been time."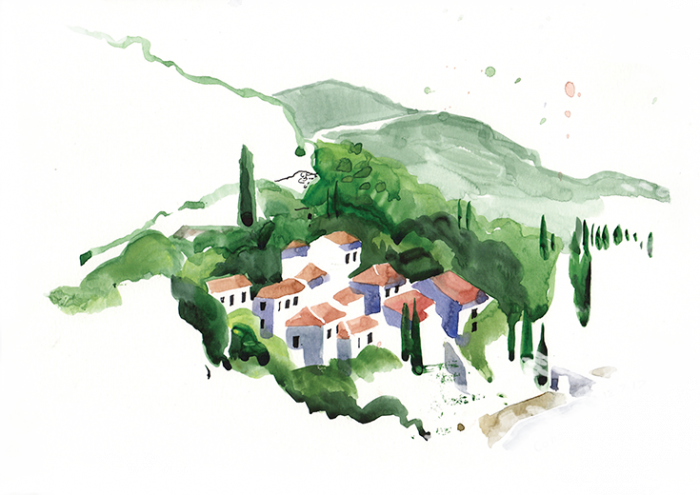 Lis Watkins is an illustrator, delivering hand-drawn images and maps to help businesses connect with their customers in a special way. She has published her work in books and magazines.