For 6 days, Sketch Tour Portugal accompanied the Portuguese João Catarino and the American Suhita Shirodkar on a trip that included one of the most important international surfing championships in Portugal, the Rip Curl Pro.
It also included visits to several places along the coast boasting the variety of waves you can find here. Many beaches, different waves, and fishing towns and villages were a great inspiration for the two Sketchers.
From her memories of a visit made 16 years ago and the fact that her father is from Goa, with strong ties to Portuguese culture, whenever Suhita Shirodkar thought about Portugal she had an image of light and colourful houses, cobbled streets, long afternoons and Port wine.
By adding surfing, she then thought of warmth, beach and calm blue waters, even though she had always been curious about the beaches with huge waves, imagining a coastline with old towns, forts near the shoreline and vegetation featuring agave plants.
The big surprise was to have found a wide variety of surf spots and too many beautiful beaches for even the quick sketches to capture. For her, working with João was inspirational and he taught her a lot about surfing. The sandy cliffs of Praia da Galé and the surfers at Nazaré are images that will be forever etched in her memory.
In addition to the surfing she was thrilled with the food and drink, the work of the fishermen, the small fishing boats, and drawing sunsets.
Suhita mentions that:
"Everywhere I went, people reached out, even across language barriers ( I speak no Portuguese) and expressed a sense of welcome. I felt at home.  (…) 
A longer trip to Portugal, to explore and sketch more aspects of the country, is what I am going to have to find a way to do! "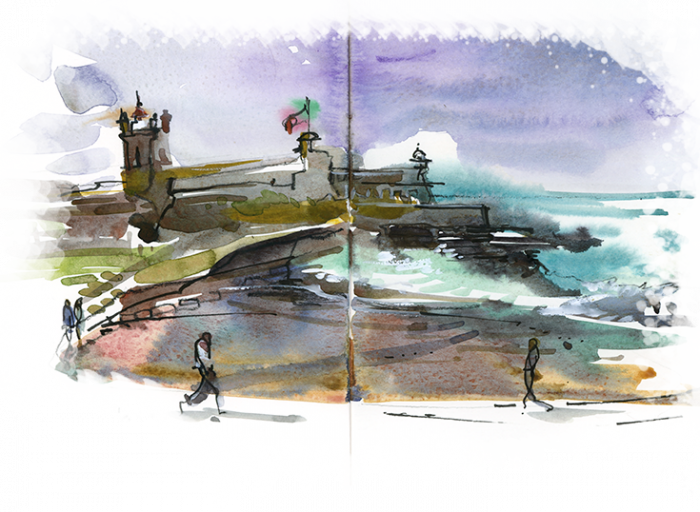 Suhita Shirodkar is a graphic designer and an illustrator based in California. She has taught at several urban sketching workshops and for her, drawing is her tool to share wonderful places she visits with people all over the world.