Eduardo Bajzek has been in Portugal twice before. The first time he came with his parents to visit the place where his grandparents were born, a village near Viseu, and took the opportunity to travel around the country. 
The second time, he came to an international Urban Sketchers symposium and that was when he drew and recorded Lisbon and some Portuguese monuments that particularly impressed him.
He looked forward to going to Fátima for the Centenary celebrations with keen anticipation. He experienced it all with a mixture of anxiety and a little apprehension, because he would have to draw amongst the crowd, but also with joy and enthusiasm, as you can see in his drawings.
In one of his most heartfelt remarks, after the experience, Eduardo says:
"As I write these words, I feel that this experience has left a certain void in me. When will we have an opportunity like that again? It seems to me that every day work will never be enough. Designing around the world is indispensable and almost urgent."
Eduardo also mentions:
"The last day was very special, when we walked along the pilgrims' trails. Our youthful joy of taking collective selfies and even jumping for photos gave way to a contemplative and respectful silence, when we drew Loca do Anjo, among moving pilgrims from different parts of the world."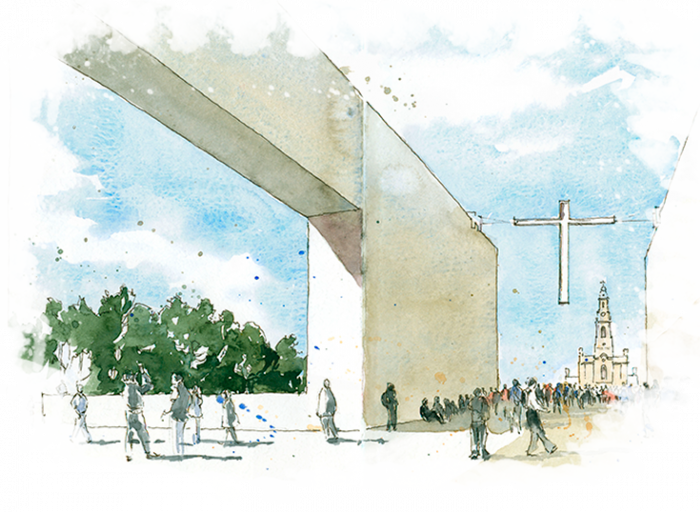 Eduardo Bajzek has a degree in architecture and has worked for 20 years as an illustrator. He received an award from the American Society of Architectural Illustrators, and has led design workshops in international symposiums of Urban Sketching in Santo Domingo and Barcelona.