Many things in Alentejo will take your breath away: the plains that extend as far as the eye can see, the cork oaks and olive trees that stand the test of time, the beauty of walled towns like Marvão or Monsaraz, the magnificent historic landmarks in cities such as Évora or Elvas.
Marion, who comes from France, remembers Portugal from childhood holidays in the Algarve, and more recently in Lisbon and Porto. Visiting the Alentejo for the first time was an amazing discovery, even though she would have liked to stay longer.
She enjoyed the contrast between architecture and nature, between the white-washed houses and the warm colours of the plains.
She grasped the blue colour of the sky, which she regards as a very important detail, since it can completely change our perception of a place.
The people, always very friendly, and a rich and tasty cuisine also made an impression on her.
She tried to capture the Alentejo in different ways to show the more deeply hidden details and the beauty or the individuality of the sites and monuments, of how the weather has left its mark on the Roman Temple of Évora, the profile of the walls of Monsaraz, the landscape of Alqueva, the white houses of Campo Maior and the medieval village of Marvão.
To convey her impressions and feelings, she used colours, light, shadow and contrast.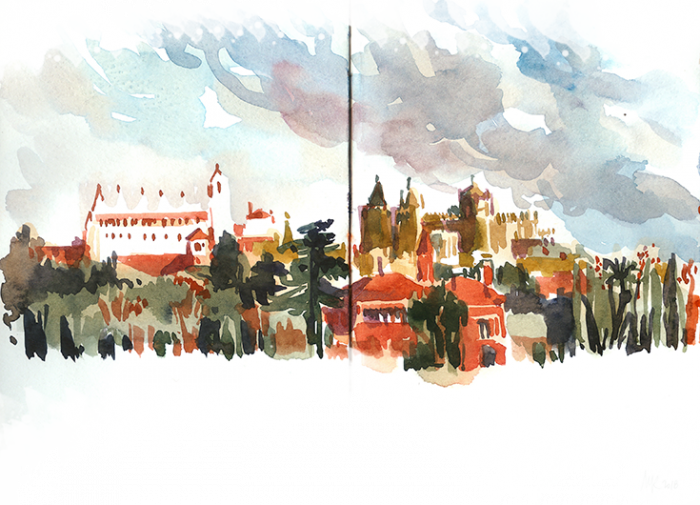 Marion Rivolier is a set designer and fine artist who lives and works in Paris. She works almost exclusively with watercolours and is passionate about architecture and art.