The Algarve has been one of Europe's most iconic holiday destinations for decades. It's not hard to see why: the weather is mild and sunny all year round, the summer season is long and there's no shortage of high quality beaches either.
Sandy stretches as far as the eye can see, framed by golden cliffs. It is indeed an alluring coast. However, the Algarve is much more than meets the eye.
Róisín Curé had never been to Portugal but was already interested in getting to know the country. So when she was invited by Turismo de Portugal, she decided to start learning a bit of Portuguese. She had some ideas about Porto and Lisbon, but all she knew about the Algarve was that it is holiday destination popular with the Irish.
As soon as she was welcomed in the Algarve and saw storks in the middle of Faro, she felt that the trip was going to be special. The flamingos and agaves in the Parque Natural da Ria Formosa, the light and colours of Ilha do Farol, going through Faro, Vilamoura, Loulé, Monchique and the final stretch of their trip, on the beaches of Aljezur were good excuses for sketching.
One aspect that remained in her memory and in the drawings was the local culinary specialities, in particular the cataplana, fresh fish and octopus cooked in a delicious casserole.
She ended up feeling that Portugal was a paradise for sketchers and that this challenge and desire to draw all the places they went through made her a better sketcher.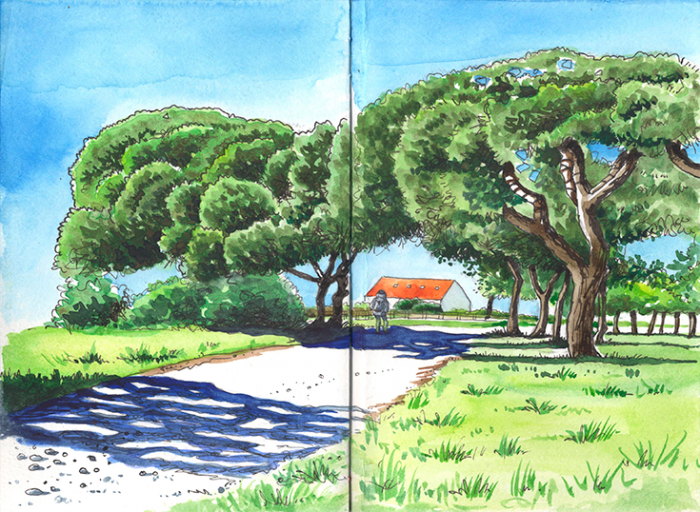 Róisín Curé lives in Ireland. She runs a small business, illustrating invitations for brides and children's books. She openly says that since she's started sketching her life has become infinitely richer.